Jordelit
Since the start in 1979, Swedish Jordelit has had a very positive development, which is largely due to the fact that they have worked with the largest and best suppliers from both Europe and the USA. At Jordelit's well-stocked warehouse you can find all types of care products for green areas such as manure, grass seeds, wetting agents, bacteria, fungi, linings, liners, spreaders, sprayers and vehicles.
System of choice
Jordelit uses it's Standard ERP system in a Mac and PC-based environment with hosting at Applitron. In addition to business systems, Jordelit has its webshop integrated with Standard-ERP. The PrestaShop-based webshop is integrated via web-API and interim storage for the business system.
E-commerce
For Jordelit, one of the basic requirements when choosing an e-commerce system was to be able to utilize all the information that was gathered in its business system around customers and products and to benefit from it without unnecessary extra work. This has been made possible by Applitron's e-commerce platform linking e-commerce and business systems. Today, Jordelit has two integrated webshops. Jordelitgarden.se, which is aimed at final consumers and Jordelit.se, which is their website and shop for corporate customers.
Jordelitgarden.se
Jordelitgarden is e-commerce for B2C with selected professional products from Jordelit's product range. Just like jordelit.se, the webshop jordelitgarden.se is developed on the e-commerce platform PrestaShop and integrated with Standard ERP by HansaWorld.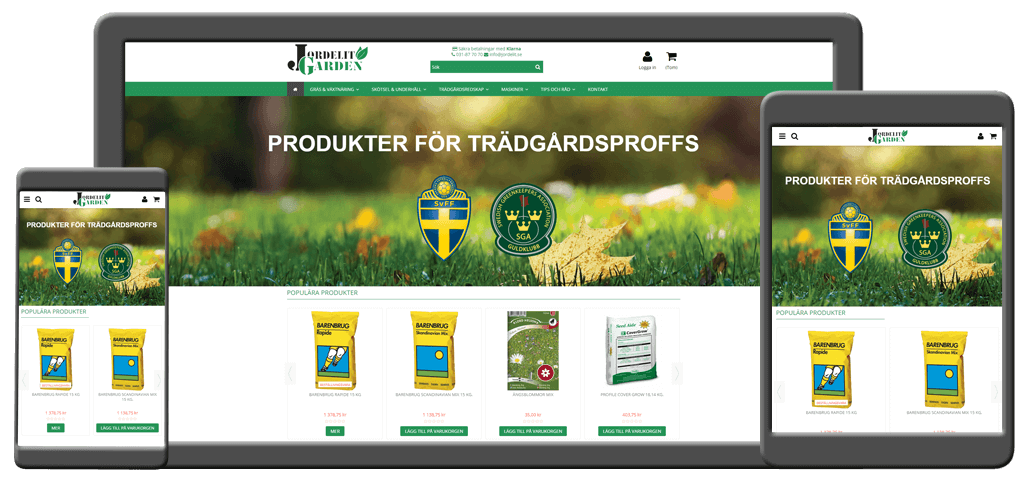 Jordelit.se
For Jordelit, it is important to have a common webshop for its 4 main areas of golf, football, park and golf course equipment. The different areas are aimed at different customer groups with different needs for product information. The same product must be presented in different ways depending on the main area from which you start. Today, customers receive this information by presenting product information that fits their particular area of interest, all managed from the underlying business system.
From its business system, Jordelit also has the opportunity to easily handle the translation of all product information into the desired language so that the webshop easily can expand outside the country's borders.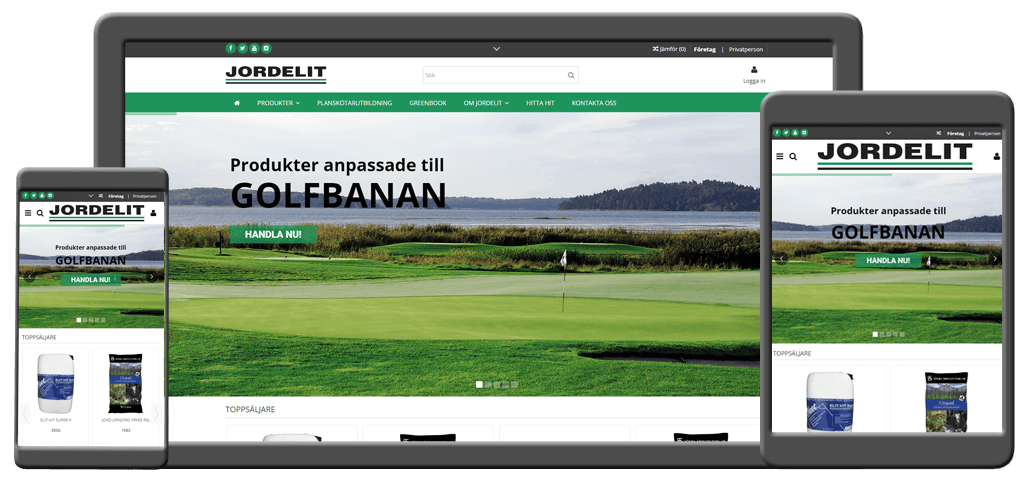 Facts
Name: Svensk Jordelit

Area of business: Care products for green areas

Market: Sweden, Norway a Finland

Number of products: 500-1000

Websites: www.jordelit.se, jordelitgarden.se

ERP: Standard ERP by HansaWorld
Unifaun order connection
In parallel with the development of Jordelit's webshop, Unifaun order connection was installed. Unifaun order link automatically sends all necessary information from the business system to the carrier. The carrier's package number is automatically fed back to the business system. In addition to this, the internal process on Jordelit is simplified so that customers who have placed their orders via the webshop automatically access their tracking ID on the personal page of the webshop. From there, they can then follow their delivery door to the door.
Standard-ERP
Standard ERP by Hansa World: 15 dedicated users
Implementation, Development, Consulting, Operation and Webshop: Applitron Datasystem AB
Modules: Accounting, Invoicing, Supplier, Quotation, Purchase, Order, Stock, HAL, CAM, Price Modulation, WAN, ASP-Cloudnode and Webshop & CMS.