Pro Optix
Pro Optix provides a product portfolio that covers optical connectivity technologies from the core of your data centre to the very edge of your network. These include optical transceivers, fiber cabling, wavelength multiplexers, media convertors, and testing and measurement instrumentation for the European fiber market.
Their customers include system integrators, telecom operators, internet service providers, city carriers and the enterprise market across all vertical sectors through our approved channel partners.
System of choice
Pro Optix runs their ERP system, Standard ERP via "the cloud". Besides the ERP systems, Pro Optix have their webshop integrated in ERP system. In the webshop/customer portal, customers can create orders, manage customer data and permission to all contacts connected to the company main customer.
Facts
Name: Pro Optix

Branch: Optical connectivity technologies

Market: Sweden and Denmark

Number of products: 2000-3000

Website: portal.prooptix.se

Release Date: 2016-06-01

Project plan: 6 weeks

Integration: Standard ERP by HansaWorld
Webshop
Pro Optix webshop was an important step to increase growth but also digitalize their operations. In the rapidly expanding market, it is important to constantly strive towards a omnichanel to meet existing and future customer needs. The webshop is one of many actions to realize the companies vision.
With more then 2,000 products in Pro Optix product portfolie, they had a need of a structured and powerful filtering tool that was administered directly from the ERP system. Depending on which of Pro Optix product groups the a customer visit on the webshop, customized filtering options will appear and the customers can easily sort out a large number of products until only a few are left to match customers requirement. By using integrated; items groups, classification types and item classifications attached to each item in the ERP system, the internal work is simplifyed and keeps the webshop and product filters up to date.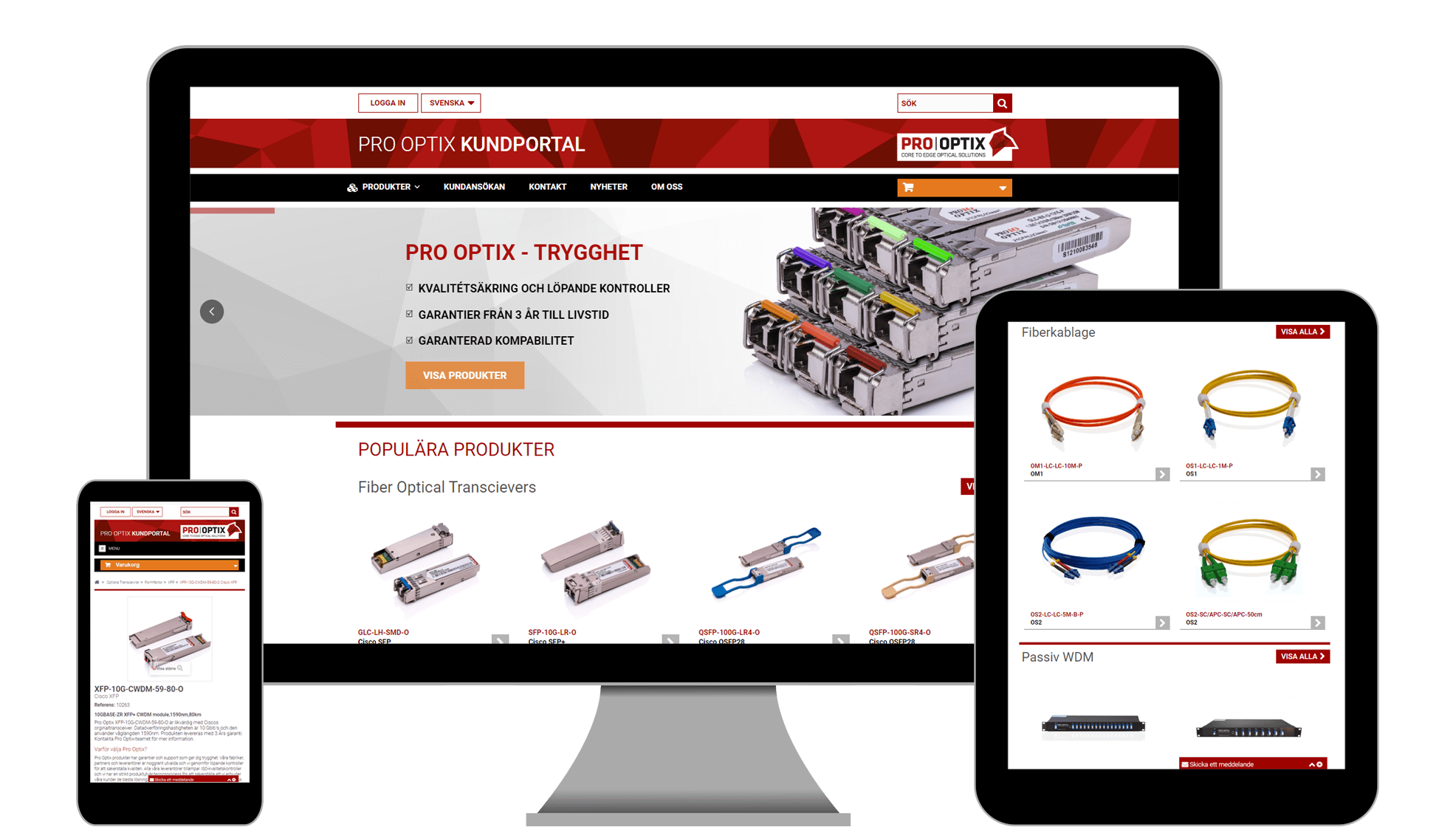 In addition to the filtering ability among products, a custom list view have been installed to complement the PrestaShop standard product views to in a better display Pro Optix large bumber of simular products.