AB Gylling & Co
AB Gylling & Co is a modern and experienced family company with solid business knowledge since 1912. The company is specialized in the development and marketing of technical innovations and products.
Today, The Gylling Group consists of six companies operating in both the corporate and consumer markets, supplying batteries and electro mechanics for industrial use, energy and comfort solutions for holiday homes and products for outdoor living.
The companies within AB Gylling & Co are:
Gylling Teknik AB
Gylling Teknikk AS
Sunwind Gylling AB
Sunwind Gylling AS
Sunwind Gylling Oy
With the slogan "Gylling brings technical innovations into business" Gylling are continuing to grow and build on their many years of experience of marketing and business development.
System of choice
AB Gylling & Co is active in several different countries, using different types of it-systems. All companies use the latest technology as much as possible to digitalize and automate processes. With a multi-business solution of Standard ERP by HansaWorld and smart additions such as integrated e-commerce and Scancloud, AB Gylling & CO have minimized manual work.
Facts
E-commerce
Sunwind AB and Sunwind Oy currently use Applitron's e-commerce solutions integrated with Standard ERP by HansaWorld for their retailers. The two online stores are almost identical in design and functionality but are connected to different companies within the same ERP. Like most B2B-platforms from Applitron, customers of Sunwind need to be able to log onto the online shop to see prices, stock and place orders. The integration of the e-commerce solutions and Standard ERP enables the opportunity to keep all data collected in the same place. Besides the fact that it minimizes the manual work for the staff of Sunwind, it also ensures that the data in the multiple systems remain the same. Another advantage of working with master data from one system integrated with others is that the master data is easy to integrate with other systems. By simply updating the master data, all systems connected to it will update automatically.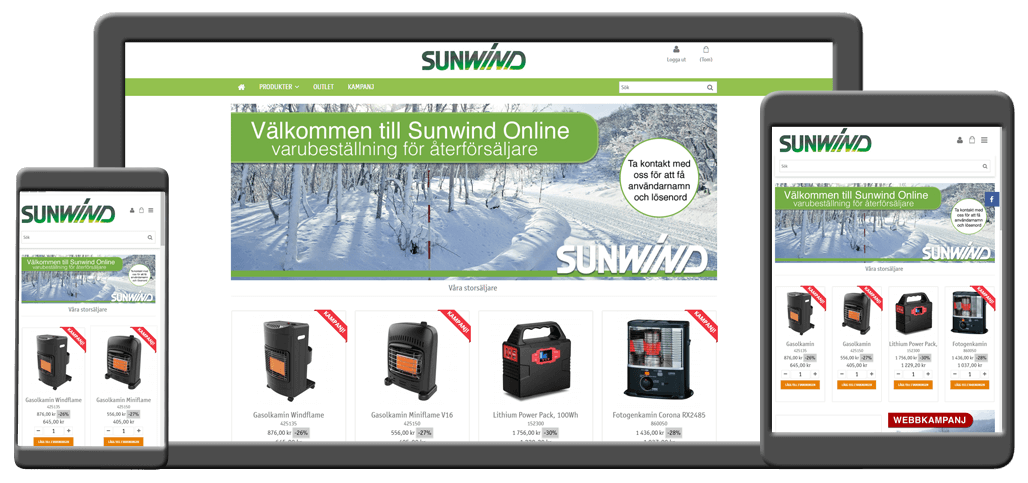 Read more about integrated e-commerce
Standard ERP
Standard ERP: Multi-business setting, 14 dedicated users
Implementation includes: Support, development, consultancy, and operation by Applitron Datasystem AB
Modules: Accounting, billing, supplier, quotation, purchase, order, stock, contracts, service orders, email, HAL, CRM, Webshop, Wide Area Network, Price Modeling, and Webshop & CMS.
Scancloud
Invoice handling is in many cases a time-consuming work for the staff in the finance department. AB Gylling & Co uses Scancloud for handling both incoming (invoice scanning) and outgoing invoices.