KG Sandström
KG Sandström AB was established in 1991 by Karl-Göram Sandström, but the company has experience with tachographs since the 1960s. Today, the company has over 20 employees at three workshops in Sundsvall, Stockholm, and Malmö. KG's customers are accredited workshops as well as companies operating in the transport industry, scattered throughout the country. At their workshops, KG Sandström perform reparation, installation, replacement and periodic checks on all tachographs. They also perform installation of alcohol lock, speed limitation devices, and rearview cameras. Educating workshops and hauliers is also part of the business. Since 2007 KG Sandström operate as a service/support organization for idha-Online "evaluation of digital tachograph data".
System of choice
With a multi-business solution of Standard ERP by HansaWorld and smart add-ons like integrated e-commerce, KG Sandström continuously work on digitizing their business.
Facts
Name: KG Sandström AB
Area of business: Motor vehicles, spare parts and accessories
Market: Europe
Turnover: Approx. 35mSEK
E-commerce: Under development
E-commerce
KG Sandström has worked with integrated internet sales of tachographs and accessory products for several years. With an outdated user interface, the initiative was taken to replace the platform with an e-commerce platform that meets customers' increased expectations of today's e-commerce.
KG Sandström's sales take place to both end customers and resellers with customer-unique agreements in terms of both prices and shipping. The requirements for the new e-store were: modern layout, clear access groups and integrated payment solutions.
At kgsandstrom.se, information about all products is presented. The website also functions as an e-shop for corporate customers who, via integrated access groups, gain access to customer-unique prices, real-time stock balances, order history, invoice history and, of course, integrated order placement. This presents different product groups and categories as well as different prices depending on which customer logs into the e-commerce.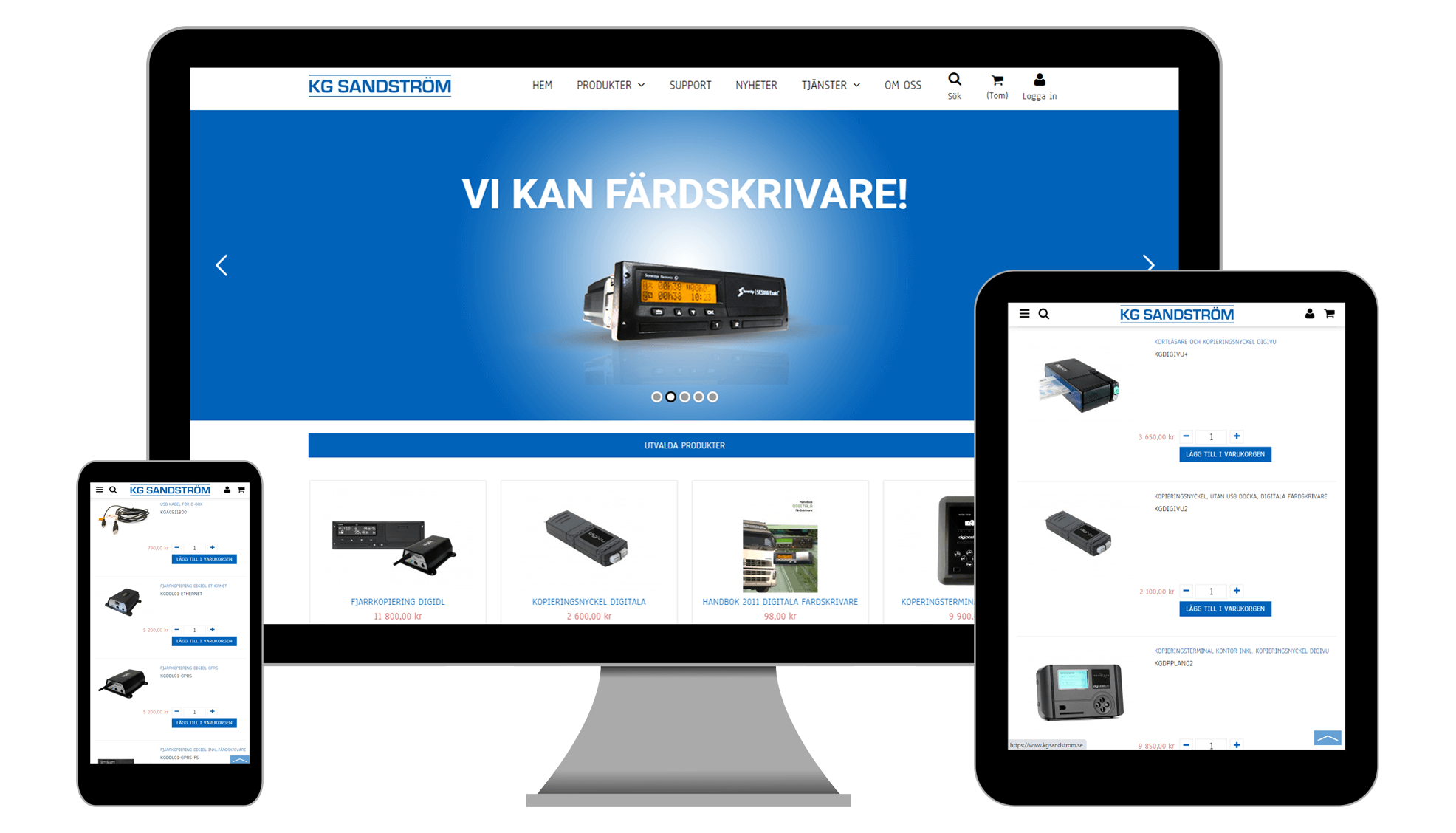 Read more about integrated e-commerce.
Standard ERP
Standard ERP by Hansa World: 10 dedicated users
Implementation includes: Development, consulting, operation and webshop by Applitron Datasystem AB
Modules: Accounting, invoicing, supplier, quotation, purchasing, order, stock, HAL, CRM, price modeling, WAN, ASP-Cloudnode, contract management, webshop & CMS.
Scancloud
Invoicing is usually a time-consuming task for employees in the financial department. KG Sandström use Scancloud for handling outgoing invoices.