A

eZRide
eZride, which is part of the innovative Gylling group, were pioneers in the electric scooter market on the Nordic market as early as 2017 - an entire year before the first rental services began to emerge. Today, the company sells and markets electric scooters of the highest quality. With high demands on quality and design, eZride works for a more enjoyable life and a sustainable future. Gyllinggruppen is a strong company group that has developed and marketed new products and technical solutions for almost a hundred years.
The first brand eZRide launched was INOKIM – the world leader in electric scooters since 2009. Today eZRide is the general agent for Inokim in the Nordic countries. In 2019, the company also incorporated the ZERO brand, in collaboration with FALCONPEV in Singapore and is the general agent of ZERO in the Nordic region – a brand that offers high-performance electric scooters at the lowest prices on the market.
System of choice
eZride is part of the Gylling group and is therefore also part of the multi-company installation of Standard ERP by HansaWorld that Gylling has chosen to work in. The multi-company solution means that all companies use the same database and share the license cost with full access to the entire system's functions. Smart additions such as integrated e-stores and Scancloud in invoice management have also been implemented at Gylling to minimize the manual work.
Facts
Name: Ezride AB
Area of business: Elscootrar
Market: The Nordics
Number of products: 100-500
Turnover: Approx. 2 million sek
Website: inokimnordic.com
E-commerce
eZride uses Prestashop installations integrated with Standard ERP by HansaWorld for its e-commerce solutions. The company is the general agent of the world-leading electric scooter brand INOKIM and has a B2C e-shop for the Nordic market with the brand's products. The site, which was developed by Applitron, is available in four different languages - Swedish, Norwegian Finnish and Danish and is completely unique for the brand. The solution is designed based on eZride's needs and desires where user experience and agility have taken up a great deal, both in terms of design and function. The Klarna Checkout payment module enables smooth purchases - regardless of the country in which the order is placed. To manage the shipping costs correctly, a freight cost module is used that allows different shipping rules for each country, in the country's currency.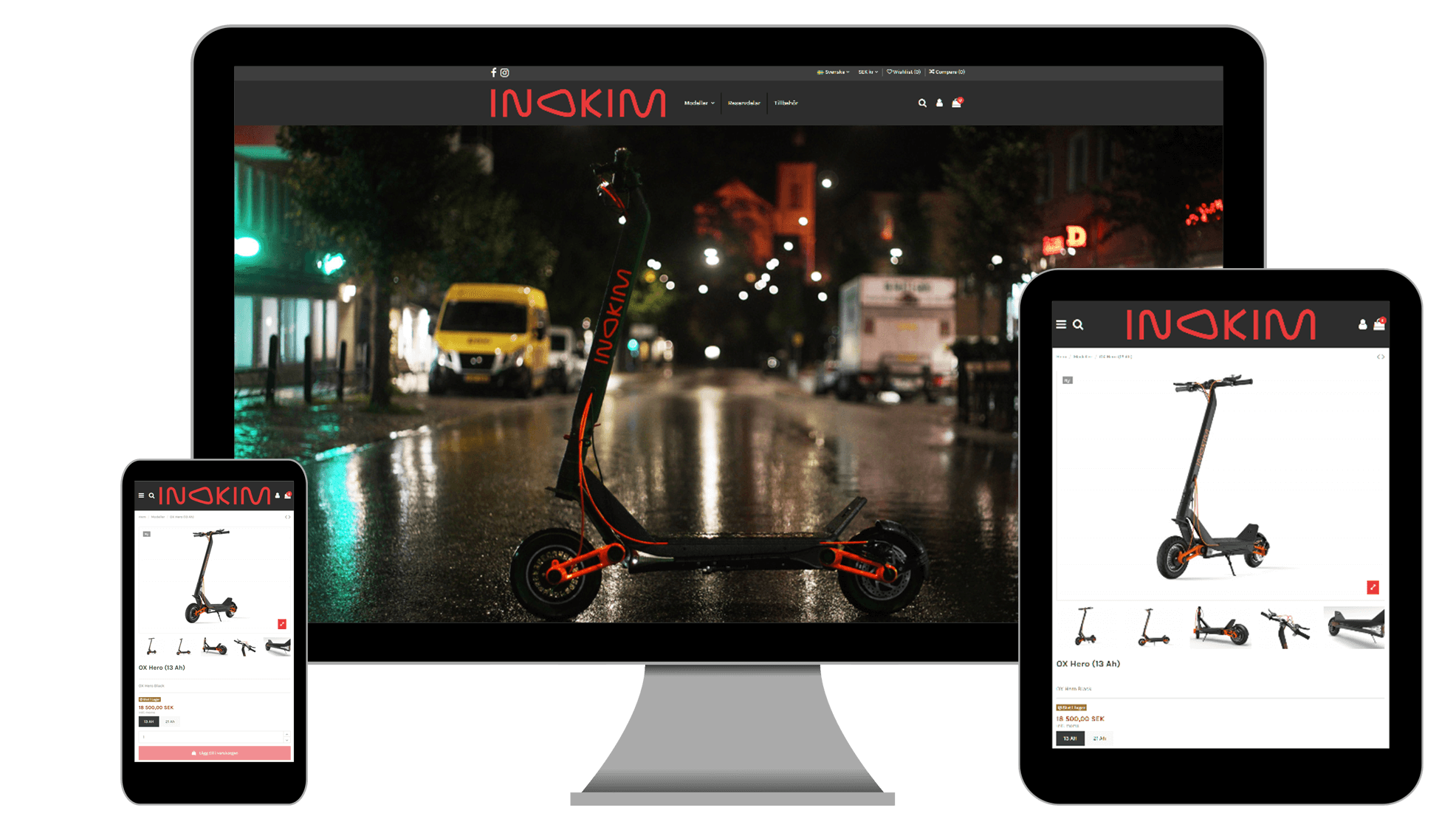 inokimnordic.com is eZrides general agent website for INOKIM in the Nordic market
Standard-ERP
Standard ERP: Multi company setup
Implementation includes: Support, development, consultancy, and operation by Applitron Datasystem AB
Modulers: Accounting, billing, supplier, quotation, purchase, order, stock, contracts, service orders, email, HAL, CRM, Webshop, Wide Area Network, Price Modeling, and Webshop & CMS.
Scancloud
Invoice handling is in many cases a time-consuming work for the staff in the finance department. AB Gylling & Co uses Scancloud for handling both incoming (invoice scanning) and outgoing invoices.