This is part 2 of 2 where Applitron answering questions about the article: Choose the right consultants and platform B2B - eight important requirements (IDG.se 2016-04-01)
Read the first part, where the first five requirements are answered.
Requirement 6 - Give online customers greater help and support in the purchase process when the products are normally more complex than B2C purchases
One part of providing extended sales support to the customer is to provide accurate and updated product data (described in requirement 2). Another part is to provide the customer with customer-specific prices (described in requirement 1). Besides displaying the correct prices it´s very important that customers know about the products stock balance. Using Applitrons stock-balance-module the deliverable stock balance is shown for the different warehouses that are "open" to the webshop. The stock-balance-module takes into account what's in stock and what´s ordered. If a product is out of stock the module presents the next planned delivery date, the normal lead time or out of stock depending on the settings. In addition to sales support regarding information, a chat-support-module can be installed where the client can communicate directly with an online salesman.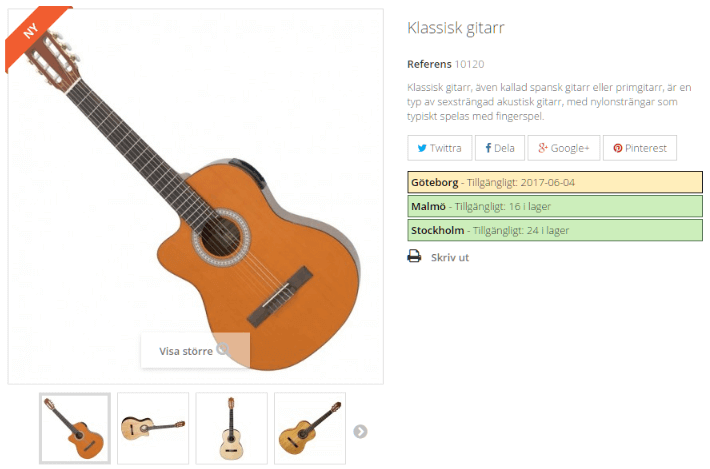 Krav 7 - Ha stöd för attestering - inköpsförslag skapas av användare som godkänns av behörig person
I Standar-ERPs kontaktregister över kunder kan man antingen vara huvudkund eller en kontaktperson som är kopplad till huvudkunden. Beroende på kundspecifika önskemål kan huvudkunden och kontaktpersonen tilldelas olika rättigheter vid orderläggning.
Ett annat alternativ är att olika typer av kundgrupper med olika behörighet tilldelas till de olika kontaktpersonerna. Exempelvis kan då en viss kundgrupp enbart få skapa önskelistor/offerter som i sin tur kan skickas till personal som har behörighet att göra om dess till skarpa ordrar med en knapptryckning.
Krav 8 - Ha abonnemangstjänster där kunderna kan lägga en order som upprepas exempelvis varje månad
Idags läget finns ingen funktionalitet för direkt prenumeration av en order. Istället finns två liknande alternativ: Snabborder (beskrivet nedan) och planerat leveransdatum. Båda alternativen används fördelaktligen tillsammans. Med hjälp av snabborder kan man ha en färdig lista med produkter som skall köpas. När man sedan genomför själva köpet kan man välja önskat leveransdatum. På så sätt kan man på ett smidigt sätt återanvända en orderlista och beställa det kommande halvårets åtgång med en månads intervall på de planerade leveransdatumet.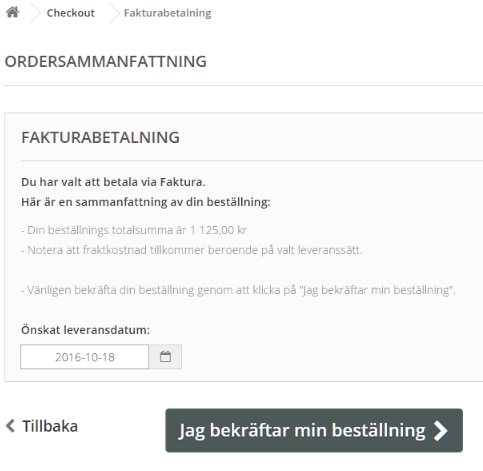 Krav 9 - Ha snabborder för återkommande inköp
För att hantera återkommande köp har Applitron vidarutvecklat Prestashops grundmodul för önskelistor. Grundmodulen tillåter enbart att man sparar produkter i olika listor vilket innebär vissa begränsningar.
Applitrons modul har uppdaterats med funktionalitet som presenterar: antal, enhets-pris och det totala priset per produktrad. Priserna är givetvis kundens unika pris. Möjligheten att lägga enskilda produkter eller alla produkterna från en specifik "önskelista" till varukorgen förenklar ordergången för kunden.