TS Design launches new e-commerce for Nordic Service Partners
Published : 11/20/2019 09:09:48
Categories : News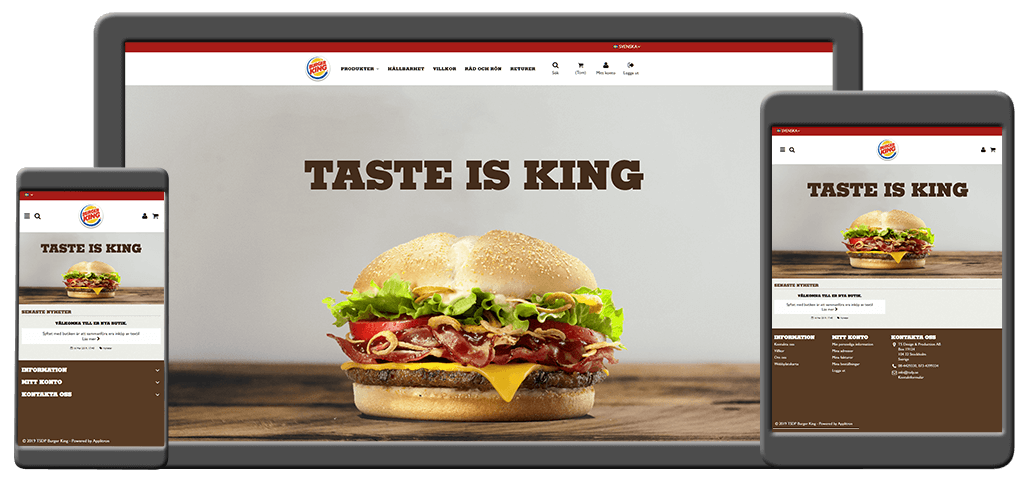 TS Design & Production AB provides durable profile clothing for several companies. The latest project has been to launch a e-commerce for their customer Nordic Service Partners. NSP is a multi-franchisee to three of the world's best-known brands - Burger King, Kentucky Fried Chicken and TGI Friday's.
The e-commerce was developed by Applitron and was created to collect Burger King's textile purchases on one platform. The goal is to adapt it to the wishes of the staff as well, to create the most user-friendly experience possible.
"For us, it was important to have the opportunity to customize and develop the e-store as it is used. This is to be able to fulfill the wishes that come with the use. We want to provide a first-class customer experience, which Applitron has made possible" says Anders Karlsson, CEO of TS Design & Production.
The e-store is used by a large number of restaurants in Sweden and Denmark. Here, each restaurant can log in with their login details and order new staff attire. The head office can, via a customer-specific report, get an overview of all purchases to follow up costs and withdrawals in real-time.

Once logged in, the customer will have access to the customer profile order page for the available items - everything from work shirts to nameplates. On the product page, the customer receives relevant information about the selected product, such as material, dimensions table and the product's sustainability certifications as well as the opportunity to view stock balance and order the product in the size desired. The e-store also contains information on how TS Design works with sustainability and information on how to best take care of the garments and get the most use out of them. The increased availability of correct products and information means a simplified ordering process and an increased service level.
Read more about the importance of a well-functioning e-commerce here.
Share this content